Map of Brač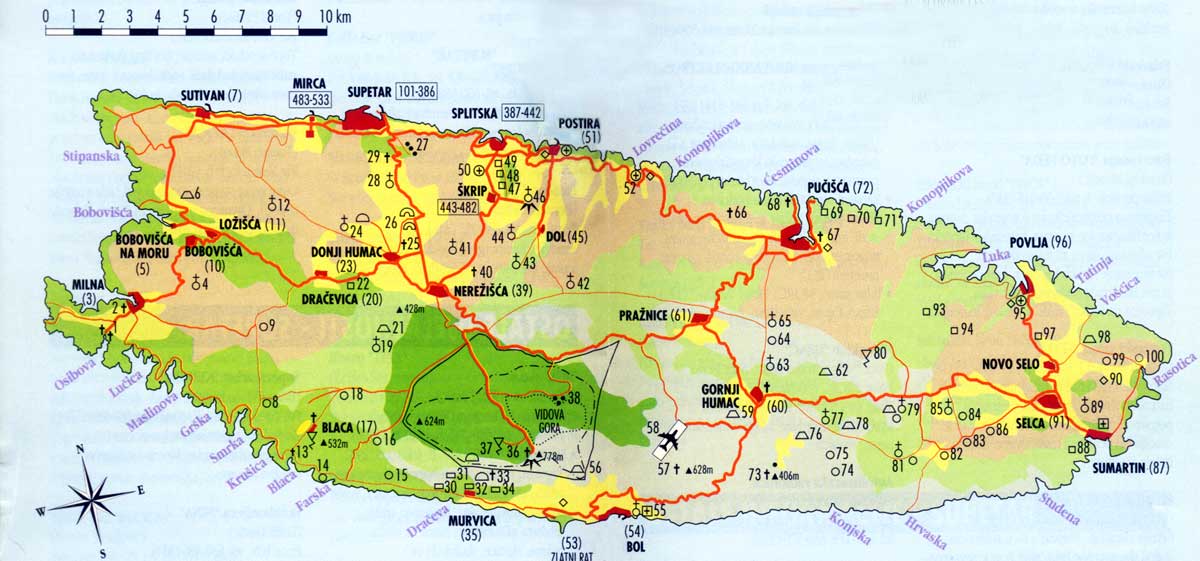 Cultural and historical sights of Brač
The Dragon's Cave, the monastery at Blaca, and the Dominican monastery in Bol are some of the most interesting historical sites and are definitely worth a visit. The monastery and church in Bol were built in 1475, although they are mentioned in historical descriptions dating back to 1180. Today the monastery boasts a unique botanical garden and museum with important historical collections and paintings from the period.
The history of Brač and Bol
Bol was first mentioned in historical documents in the 13th century. Greeks and Romans were among the first inhabitants of Bol. Over the course of its history, Brač has been ruled by the Romans, Venetians, and the Croatian-Hungarian monarchy (the Habsburgs). These different epochs came and went without any major wars or violence, but they are still marked in the local culture and architectural style through surviving historical monuments.
Residents of Brač before tourism
Throughout history, the population of Brač has primarily been comprised of farmers. Agriculture and fishing grew rapidly a few centuries after the Croatians arrived in Brač. The island is now a major producer of olives and wine. It's easy to find good wines made from the grapes grown on the slopes down towards Hvar. Bol's "Plavac" sits comfortably among some of Europe's best wines.
Fishing took off relatively late in Brač in the 18th century and became one of the island's most important industries.
Activities
The clear waters, islands and coves of the Croatian Mediterranean coast are a paradise for water sport enthusiasts and sunseekers alike, enticing even active holidaymakers to come and swim, sail and dive. Those who enjoy hiking, climbing or cycling can also appreciate Brač's natural beauty, along with its rock formations and beautiful coves. An interesting fact is that many national cycling teams train on Brač
a couple of times a year, especially before the Giro Di Italia when the island throngs with cyclists.
History buffs can also have their fill on Brač, of course. Everywhere you look you can find evidence of Brač's thousand-year-old cultural history. Take time to experience Brač's history.
"Zlatni Rat" (the Goldern Horn), Croatia's most famous beach, is also located on Brač. This picture is taken from the "Vidova Gora" mountain, 778m above sea level.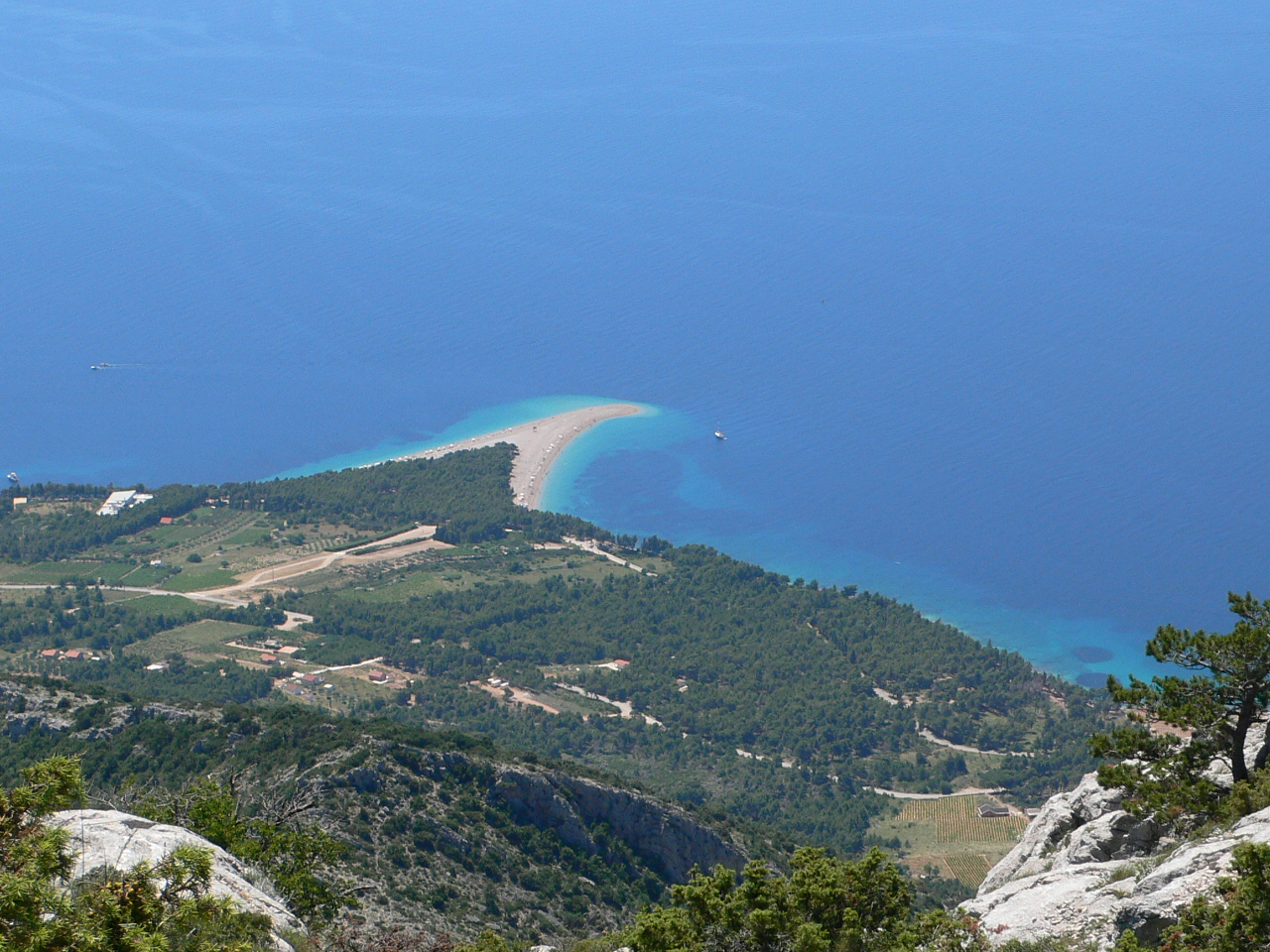 Superb cuisine
Traditional Dalmatian dishes include grilled fish with olive oil, vegetables and wild herbs. Seafood delicacies and the typical Pršut ham, which is smoked and air-dried, are also characteristic of the island. Typical drinks include white wine and the renowned Travarica herb liquor. Regardless of whether you visit a small local inn or a classy restaurant, you are always sure to get high-class cuisine. Every dish is inspired by Italian culinary culture. The local wine is of excellent quality. The fact that Croatia is good value for money is nothing new, meaning that you're likely to visit restaurants quite often during your stay.
Croatia is becoming ever more renowned for its excellent food and fine wines. Along the Istrian, Dalmatian and Primorje coasts, you tend to find the food is inspired by Italian cuisine, as previously mentioned, but is cooked in the Croatian way. Fish, seafood, pasta and pizza are staples of many restaurant menus. Common dishes include Pleskaviska, Buzzarra and Ćevapčići. Pleskaviska are huge hamburgers that can be ordered with or without cheese. Buzzarra means that the main ingredient is cooked in a sauce made with wine, tomatoes and spices, and is suited to various kinds of seafood. Ćevapčići is the most famous dish – a type of minced meat roll served with potatoes or fries. Fried or grilled beef, lamb or pork are also common across the country.

You can often order pancakes at restaurants and as street food. Croatian ice cream is a worthy competitor to the traditional Italian gelato, both in terms of taste and quality. The ice cream parlours have a seemingly endless variety of flavours.

Croatia is a major wine producer, with many varieties of good quality wine. The most renowned red wines are Dingač, Plavac and Postup, which are all made in Dalmatia. White wines are made primarily in the northern part of the country, with the most renowned being Muscatel, Malvazija, Kaštelet and Pošip.
Beer production also has ancient roots. The largest beer producers include Ožujsko, Karlovačko and Laško. The most common liquors are rakija, which are a sort of fortified wine available in several different flavours.