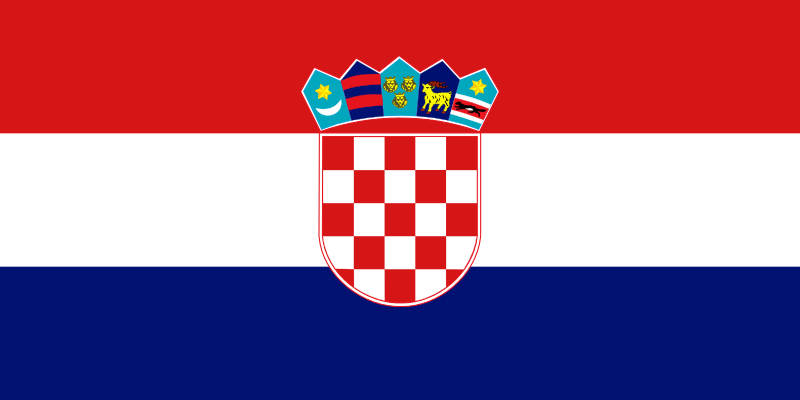 Member of the EU since 2013

Geography
Croatia is situated on the Adriatic Sea. Its closest neighbours are Italy to the west, Slovenia to the north, Montenegro to the south, and Bosnia-Herzegovina to the east. Croatia's total land area is 56,542km2, compared to Sweden's 449,964km2. There are total of 1,184 islands, islets and skerries, of which 47 are inhabited. The country's highest peak is Dinara, 1,831m above sea level.
Population and language
Croatia has a population of roughly 4.4 million people, including Hungarians, Czechs and Italians. The official language is Croatian, which uses a Latin alphabet. English, Italian and German are widely spoken at the country's tourist destinations.
Climate
The majority of Croatia has a continental climate with hot summers and cold, snowy winters. The coastal areas have a typical Mediterranean climate with mild, wet winters and hot, sunny summers. Croatia is one of the sunniest countries in Europe with around 2,700 hours of sunshine a year. The Adriatic Sea is ranked one of the world's warmest and cleanest seas. The water temperature varies between 24 and 26 degrees in the summer.
Even in April-May and October-November, water temperatures can still reach 22 degrees, giving the feeling of a nice Swedish summer.
Money and credit cards
Currency = Kuna, HRK. HRK 1 is 100 lipa. HRK 1 = SEK 1.22 (01/01/2014). Foreign currencies can be exchanged at banks, bureau de change counters, and post offices. Credit cards (Mastercard, Visa, Amex, etc.) are accepted almost everywhere, including ATMs.
Electricity and water
220 V, 50 Hz frequency. There is no problem with bringing Swedish electrical items. Tap water is largely drinkable throughout the whole of Croatia, with no problems drinking the tap water on Brač.
If you become ill
Hospitals and clinics are located in all major cities, with medical centres and pharmacies in smaller towns. Remember to bring a certificate for both your home insurance and travel insurance (applies to most companies).
Call your insurance company and ask them to send you a certificate, or print it out online.
In the event of a serious accident or illness, call112

Who to call
Important phone numbers – Ambulance: 94, Police: 92, Fire brigade: 93, Breakdown service: 987.
International dialling code: 385
Using a mobile phone is not a problem, but remember that it's expensive.
Travel documents
Valid passport. If you're driving your own car, you need a driving licence, car registration documents and car insurance certificate.
Opening times for shops and public services
Shops are open between 08:00 and 20:00 on weekdays. On Saturdays and Sundays shops are open until 14:00, slightly longer during the high season (June to September). Petrol stations open at 07:00 and close at 19:00 or 20:00 every day. They stay open until 22:00 during the high season.
Public services open at 08:00 and close at 16:00.